Hiking at Belfountain Conservation Area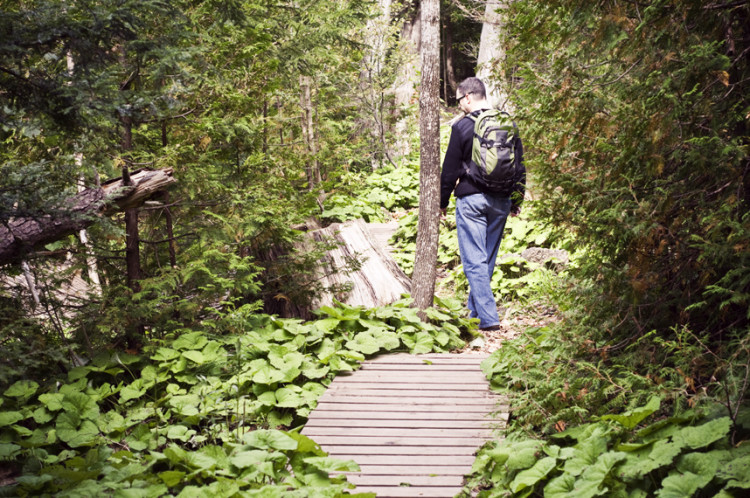 One of the most beautiful places just north of Mississauga is the Hills and Headwaters area, which includes Belfountain Conservation Area and the Forks of the Credit Provincial Park. We've gone hiking at Belfountain Conservation Area several times,  and I have blogged about our drive through the town of Belfountain that inspired a summer visit.
Our first visit was on a wintery day, with frozen roads and hiking trails. Our summer visit was completely different.
If you've ever driven through Belfountain, you know how lovely it is, and how much fun it is to drive on the winding roads. It feel like are in a mountainous region of Europe. The Credit River sometimes accompanies you along on your route, and you drive and up and down steep, curvy roads.
Belfountain Conservation Area is right in the village. During the spring, summer and fall seasons it is open to visitors with a parking lot, making it easy to stop and visit. The cost of entry is approximately $5.00 / adult; $3.00 for children (ages 6 to 14).
My first thought about Belfountain Conservation Area during our late summer visit is that it is an ideal spot for wedding photographers, taking engagement photos or of the newly married couple. Several locations on site can be transformed into wedding venues.
What also comes to mind is that there are some pretty decent trails along the river that offer a good workout. This is not a leisurely hike with a flat gravel trail. Although many spots include wood ramps and stairs, there are sections where you are scrambling over roots and watching out for tricky spots that can cause twisted ankles.
The scenes at Belfountain Conservation Area are at times breathtaking – from the green lawns around the dammed up pond and fountain, to the falls, river and foliage surrounding it. There are many photo opportunities along the way.
TIP:
Bring good hiking shoes with treads for the trickier spots on the trail.
Bring your camera for photo opportunities.